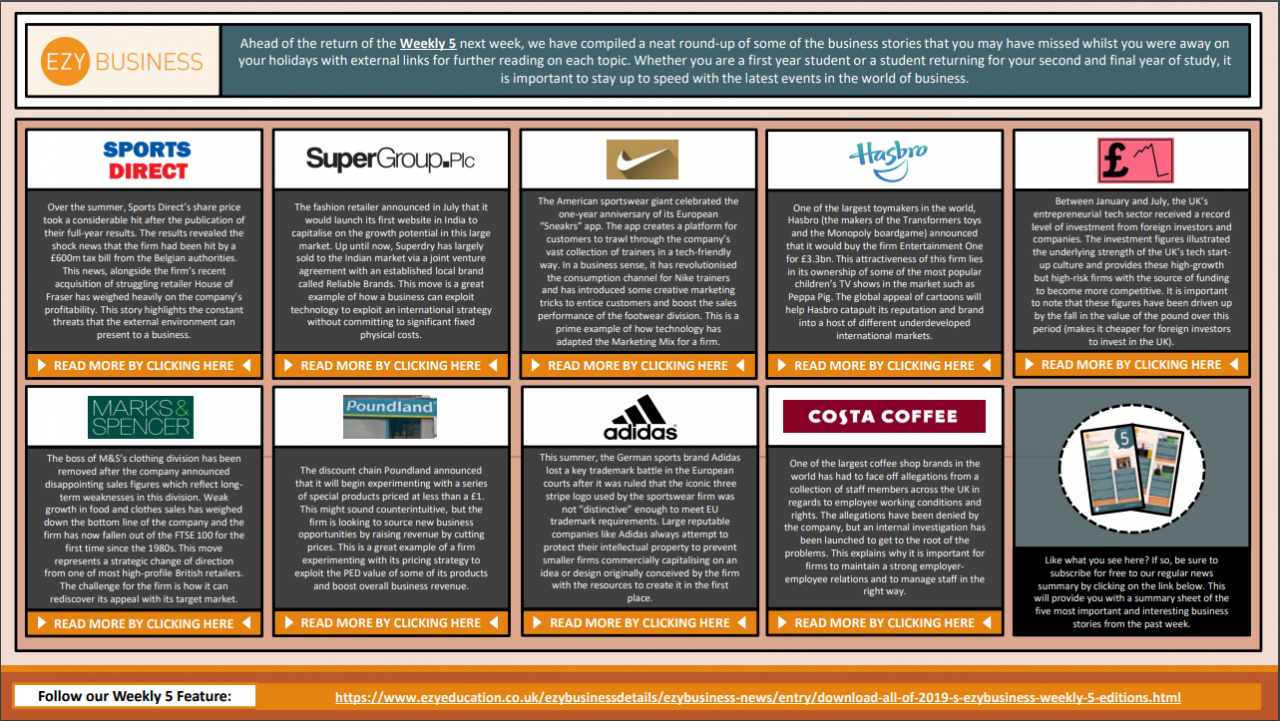 We hope that you had an enjoyable and sun-soaked summer break! Here at EzyBusiness the team have been busy putting together a summary of the latest business news for you to recap the main business stories that have unfolded over the summer. This is a gentle recap document of a broad selection of business stories related to many of the main topics and concepts that you will come across throughout your studies of A-Level Business. For each of the stories featured in the recap document, we have placed an external link taking you to a more detailed report written on this story for further reading if you wish to do so.
In this edition we look at the following stories:
Sports Direct - Managing External Environment
SuperDry - Global Expansion
Nike - Marketing
Hasbro - Business Growth (Takeovers)
UK Tech Sector - Economic Changes
M&S - Strategic Change of Direction
Poundland - Elasticity/Pricing Strategies
Adidas - Protecting Innovation
Costa Coffee - Human Resources
Click on the link here to access the full PDF document
It is important that you familiarise yourself with the key business stories throughout the course of your studies to ensure that you have application material to bring into the exam when you're discussing a particular topic. To help facilitate this, we produce a weekly document during term time that puts 5 of the most interesting business stories under the spotlight and apply some business theories and concepts to that story to make it relevant for your studies. Stay tuned to this blog page for our regular Weekly 5 document every Friday rounding up the week's stories from the world of business. 
Comments
No comments made yet. Be the first to submit a comment