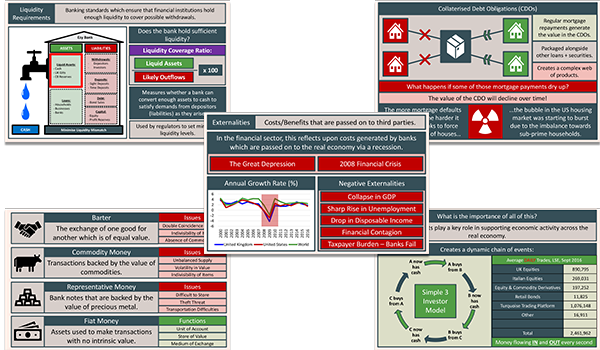 Here at EzyEducation we aspire to the highest standards and one part of the journey for us has been the improvements that we have made in improving the quality and nature of the course lecture videos. No longer are our presenters "trapped" in a box and reacting to what is on the screen, instead the presenters are actively engaged in the content to provide a more interactive student learning experience.
One of the content areas where we thought the introduction of this new video format would add the most value to our existing course is the Financial Markets Section (Macro - Module 7). The content within this section draws upon a wide-range of content areas from all sections of the economics course and introduces lots of unfamiliar and complex terminology and concepts for students to manage. Therefore, we felt that this was the perfect module to upgrade and perfectly complements the nine financial market assessments that we recently upgraded over the Christmas holidays.
The new module structure will see an increase in the 13 lecture videos currently in the module to 29. Follow the link below to view a breakdown of the upcoming changes to this module and the new content that we will be releasing:
Macro Module 7 - Financial Markets New Structure
These changes will be implemented on the morning of Tuesday 8th May and therefore there may be disruption when trying to access the videos in this module over that period.