Computers don't have memory constraints and don't forget!
Formative assessment is all about activity that prompts learners to provide feedback which can be used to help them improve. This can take many forms and a lot of teachers will instinctively think about the class experience of asking open questions and providing support to develop conversation that supports progression.
Verbalised and transient experience?
However, this type of formative assessment activity can lack long lasting effects, as it is often a verbalised and transient experience and is never recorded in any great detail. This means the valuable feedback produced by formative assessment exercises will be forgotten and is why an automated formative assessment approach can provide so much help for teachers.
In most situations it can re-energise the ages old teaching model with increased data quality and quantity that is easier to interpret, use and which involves no burdensome teaching tasks.
Strengthening Formative Assessment
Consider the data that could be collected by an automated approach and how this would strengthen the formative assessment supporting students: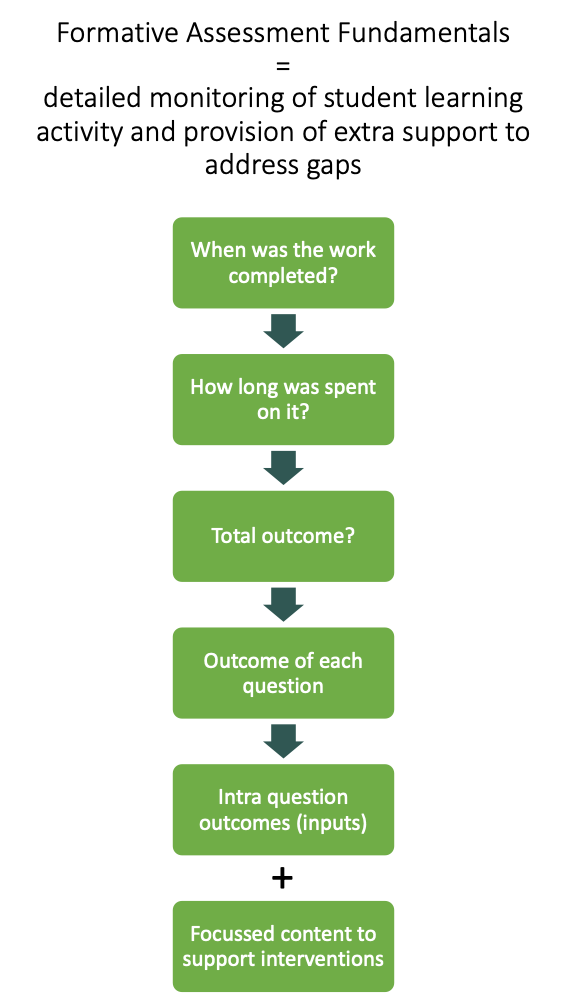 This would be virtually impossible to achieve with a manual approach. As computers don't have memory constraints and don't forget, the focus should be on automating this process wherever and as much as is possible. If you believe in optimising formative assessment you have to agree with and think about following this approach.
Consider this comparison of an actual homework assignment at one of our school users. The start of lessons changes forever when this data quality is available.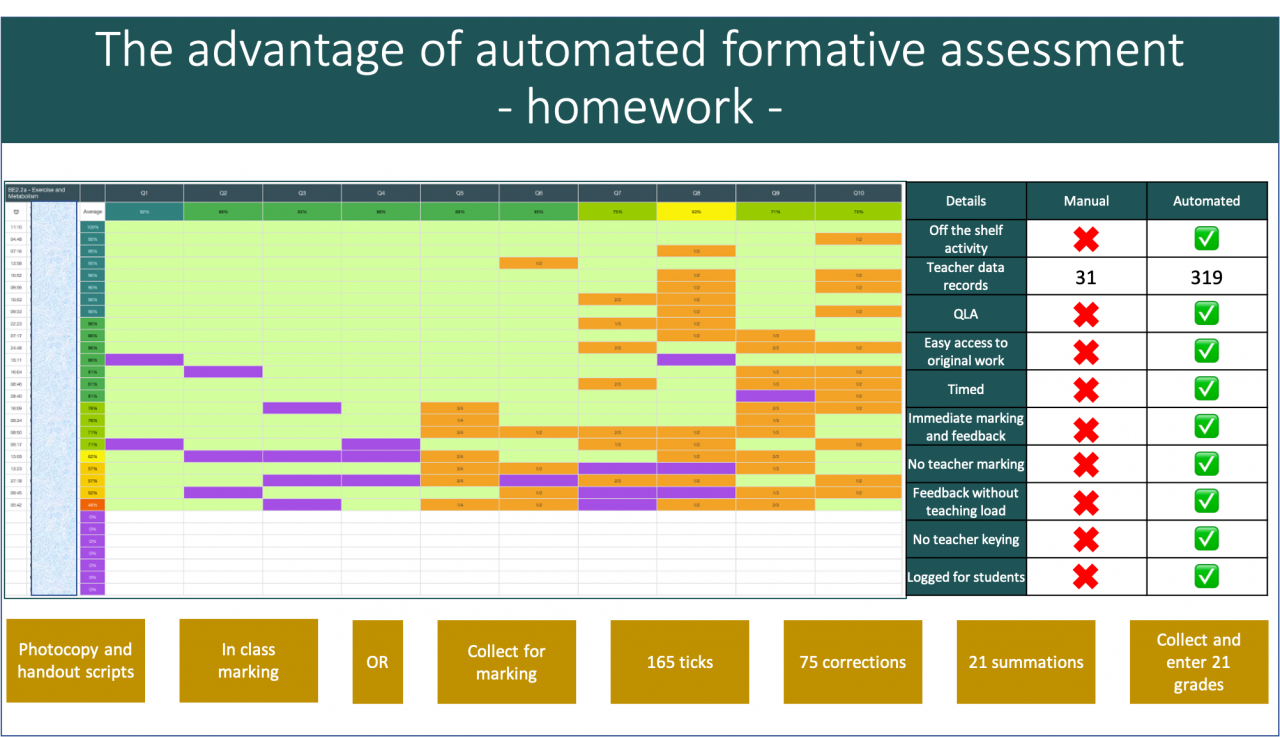 It doesn't just have to be for homework
Now that the likelihood of device access in class is far higher, the outcome could be transformational where "in class movement" by teachers is inhibited. Start an automated formative assessment in class and monitor the progress from your desk. You will be better informed and teach more effectively as a result.
Look no further than this learning map extract from an in-class exercise. The teacher in this class started with a blank screen and watched activity progress throughout the lesson and keep the pressure on and support the dawdlers.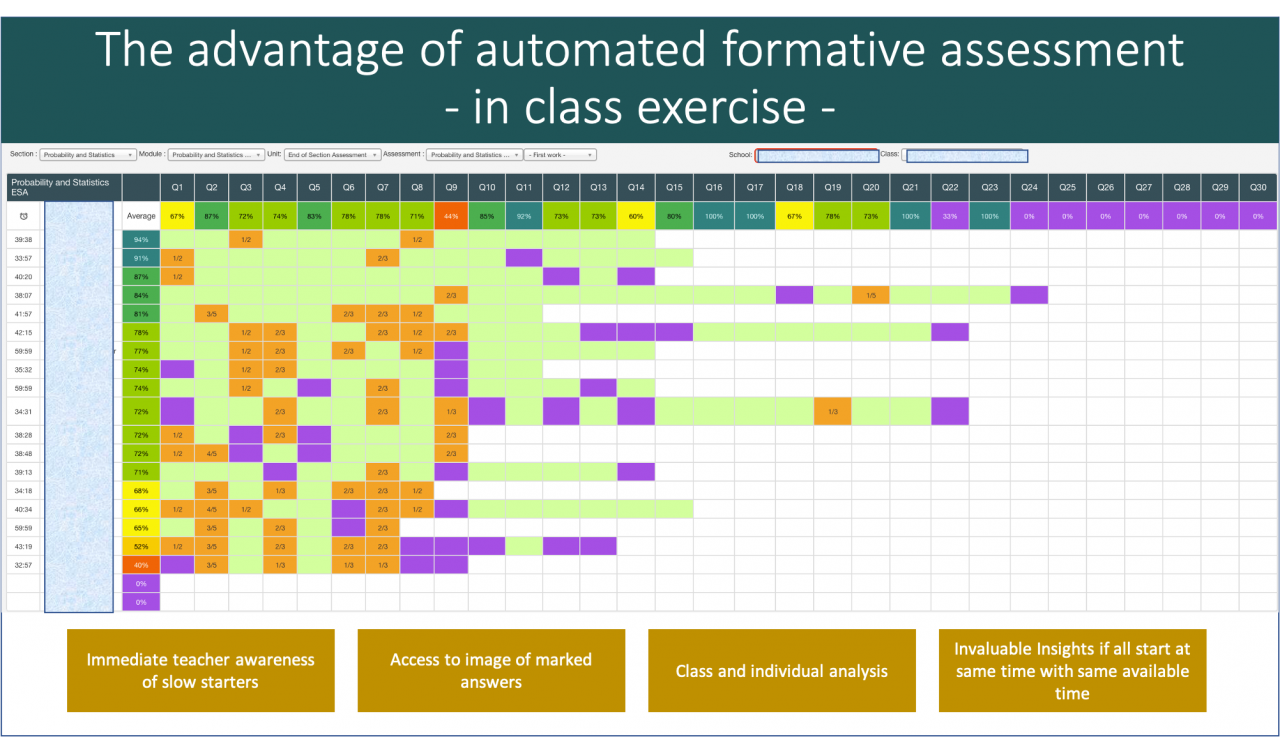 Students created 469,987 formative assessment records in 12 months 
When automation is used the big change is that the records are created by student activity and a machine. This relieves the teaching team of this responsibility and also creates more and better-quality records than would be achieved by a manual approach.  In 12 months, the 400 students at St Ambrose Barlow RC High School generated 469,987 learning records for the 10 science teachers using the system.  
Size isn't everything
It is very easy to talk up the number of data records, but it is the automation that is key. This not only allows more activity to be captured and analysed, but it has so many other positives for the quality of formative assessment. Consider some key questions in this reflection grid and then think about the benefits you could derive from a small investment in EzyEducation.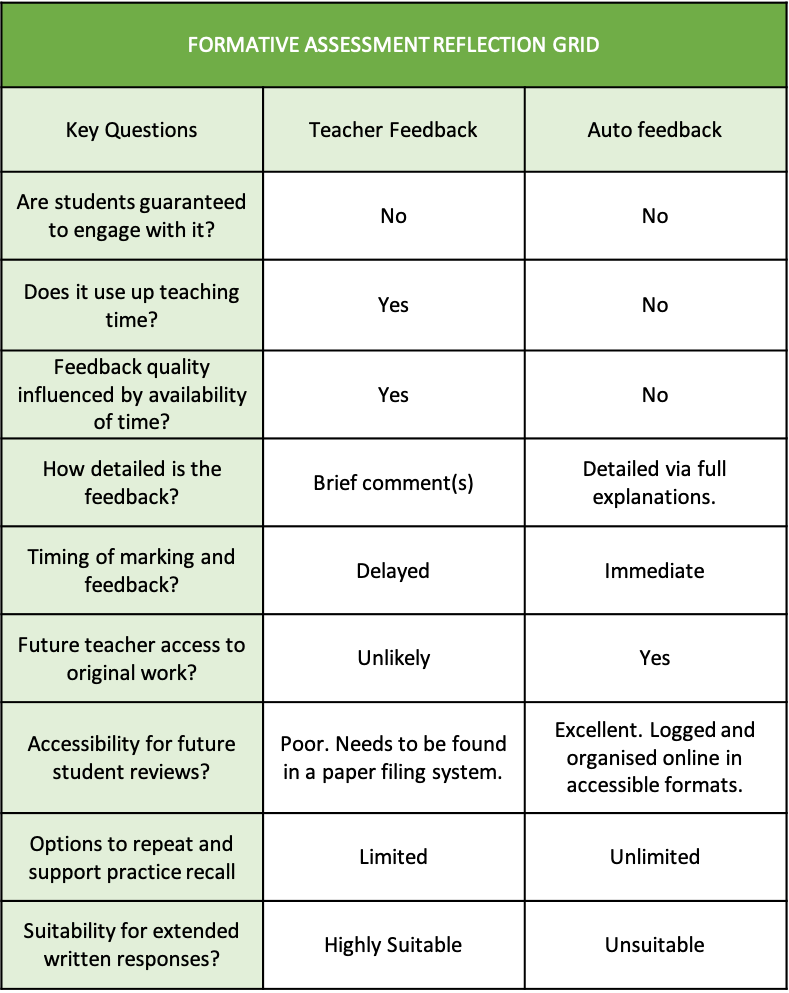 This comparison suggests a hybrid approach will be optimal with automation targeted at knowledge acquisition and assessment while teacher marking is targeted at skills development.
See how our approach via these interactive pdfs. Download below.
EzyMaths Formative Assessment Support
EzyScience Formative Assessment Support
EzyEducation
April 2021
07729 776281
Comments
No comments made yet. Be the first to submit a comment