Teaching digitally isn't just for lockdowns!
Regardless of student location, it can only help to have live tracking data at your fingertips.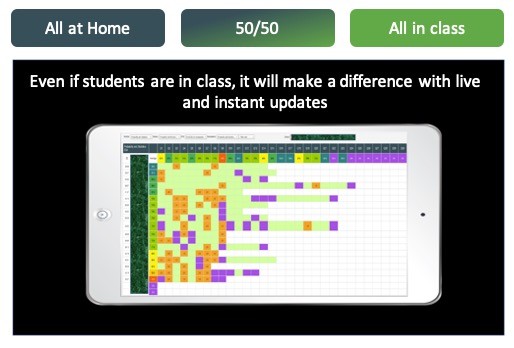 Many schools have found that using our assessments in virtual classes makes a huge difference. It is like turning on the lights in a world where many students will be muted and/or cam switched off.
However, even if things go back to normal and physical classes fully resume, working online in class still makes sense and will transform classes:
No repro costs
No paper management
No marking or mark admin
Monitor progress so that teacher classroom awareness is improved and help can be targeted effectively
Informed and supported plenary sessions
Detailed records to supplement attendance register
Any "at home" students can be effectively integrated into the class
It is certain that these efficiencies will accelerate progress and contribute to catching up. 
For many teachers transitioning to a digitally supported lesson like this can seem a big and intimidating step. Sometimes this is enough to stick to the status quo regardless of how much better the teaching experience could be. To help get started we recommend this lesson plan. Perfect for new classes.
Outline Introductory Lesson Plan 
Part 1 – basics and login issues
Share your screen and go to www.ezyeducation.co.uk
Play student introduction video - 11 minutes
Log in and go to School Management
Select a class using the filter on the students tab
Click on "last visit" and highlight non-visiting student
Ask all to log in and use page refresh to monitor
Part 2 – running a live learning map
Go back to the Learning Zone home page and then access the course and set work for the class
Invite students to start work and then go to the assignment hub and access the data for the assignment set.
Click on the "report" icon to go to the gradebook page.
Click on an assessment name to navigate to the learning map. Use page refresh regularly to see progress. There will not be any mistakes in the data displayed. Be firm if students claim otherwise.
Monitor students as they progress.
If students finish you can either direct them to view videos and make notes if not done, review their work or attempt another activity.
Part 3 – intraclass review session
10 minutes before the lesson ends.
A whole class review using a learning map with student interaction regarding answers.
Play video explanation on problem Qs.
Instruction to complete for homework
Part 4 – post lesson
Go to "assignment hub" and access "reports" for the assignment.
Click on the "select all" tab (above first student name).
Click "personal".
Open the zip file and create a new folder on your desktop or school system with a pdf record for each student.
 EzyEducation Ltd
Comments
No comments made yet. Be the first to submit a comment